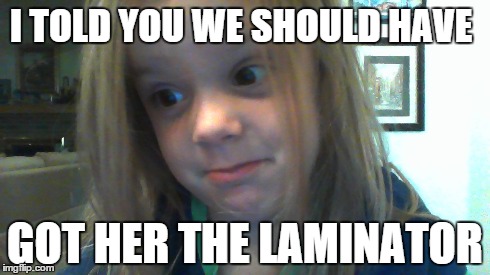 The average "gifts for mom" list is not necessarily a good fit for a homeschool mom.  Don't get me wrong…I love perfume and scarves and expensive handbags just like the average girl, but if you really want the wow factor for this homeschool mom of five I have a better list.  Maybe you can forward this post to your hubby or whoever is asking you that pressing question, "What do you want for Christmas?"  I hope this list will inspire you to answer with every bit of the quirkiness that defines a homeschool mom.  


Just a bit fun…happy shopping everyone.
My large crock pot has a hairline crack in the removable porcelain crock.  I am afraid to do too much in it, and I am for sure not transporting it anywhere.  Crock pots are a homeschool mom's best friend in the kitchen.  We can start dinner at breakfast and as the house is permeated with the smell of lemony chicken it is so reassuring to know supper is on. 
My coffee pot is trying to peter out on me…and that just cannot happen.  I currently have to jiggle the cord to get the green power light to appear.  I wait every morning in suspense…it's just too stressful.
This is such a great gift for a homeschool mom.  This tote can be used for picnics, as a library tote, camping, day trips, etc.  One use I would like it for is to stock my car with a mommy survival kit.
I

already

have this gift, but I had to include it.  Free Shipping for books!  Are you kidding…this is a homeschool mom's dream!    
This gift is over the top.  The one I want is a little pricey, but oh so cool.  I would love it to make dry erase activities for my littles, flashcards specific to the things we are learning, saving works of art…the possibilities are endless.  
What a tongue twister…but never mind that.  This little beauty makes the homeschool day to day much easier.  The copier is a godsend. 
This is so dreamy…now I can spend my summer making the kind of workbooks we love…suited just for us.  I would trill with delight if I opened this gift.
And for the stocking… 
I love the feel, the smell, and the size of the Moleskine notebooks.  It is very inspirational to write in something of this quality.  Keeping a daily journal is a great way that homeschool moms can unwind and reflect.  
This could come in the form of a coupon booklet if you would like something to unwrap.  It's easy to make them on the computer or just make them with colored pencils and crayons.  12 would be perfect…12 Free Time coupons that I can spend…like say once a month.  It is nice to have time alone sometimes.  
Yes…I said Sharpies.  I love to have those around, but I am always too cheap to buy them for myself.  I want a big set…just love office supplies.